September has landed, but summer is not quite over, and I am so happy to tell you that 1971 isn't over yet either! My Classmates and I have had a blast traveling around Nova Scotia dusting off old favorites with wonderful audiences in Pictou, Bridgetown, Berwick, Wolfville, Halifax, and on the Kempt Shore! What would have been our first show is now our last, with a sold-out visit to Mermaid Theatre very close to home. 
If you're feeling like you missed out, I have some great news - we are bringing the 1971 family to the Halifax Urban Folk Festival! On Monday, September 6, we'll spend the afternoon from 2-4pm making summery sounds in Grade Parade with a free all-ages show, featuring Jordi Comstock, Mike Farrington, David Christensen, and rising star Reuben Gilbert (of The Gilberts). We'd love to hear you sing along!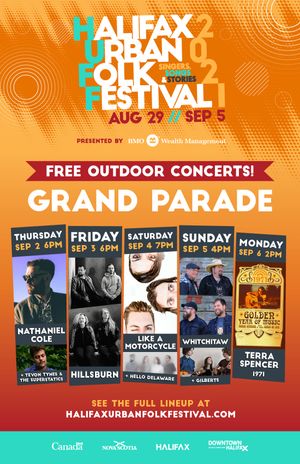 I'll also be part of a terrific HUFF Songwriters Circle on Friday, September 3 at New Scotland Brewing with Mathias Kom of The Burning Hell and Paul Murphy of Wintersleep - this is really exciting mix of music with free admission starting at 8pm -  there aren't many seats so come early! 
I have some fun Valley news too...one of the greatest guitarists I know is coming home from Toronto for a visit! Any occasion to team up with Mike T. Kerr is a joy - we recorded the song Windmill together, and did some picking on Mike's brilliant instrumental record, Spring Garden Bandstand. We're reuniting for his only Valley show, at Horton Ridge's beautiful new outdoor space on September 9. Tickets are $20, or you can book a whole nook for up to 6 people for $80 and save a few bucks for brew! Call 902-697-3535 to save your seat - space is limited!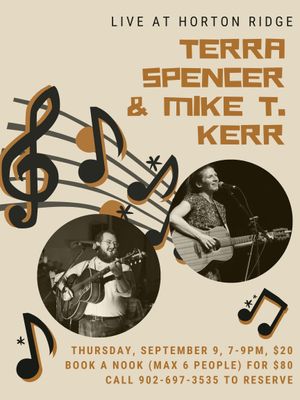 I'll be linking up with another favorite Valley fella a bit later this fall for more shows, and have some new music in the works. Feels like going back to school! Thank you for your continued support, especially for coming out to shows and buying music. It makes great things possible! 
Drop me a line with your summer highlights anytime, and I hope I get to see your face in a safe space sometime soon! 
Lots of love, 
Terra